Last Updated on
A while back I have created a site for a customer of mine here in Romania with some stomatologic packages that he wanted to sell online for his customers. Once with the package selling he wanted also the platform to generate an PDF invoice and to be send via email to the client. Generating invoice directly from WordPress for the WooCommerce sold product is very usefull if you don't want to stress youself with another invoicing software or you want that customer to download the PDF invoice directly from the portal.
As WooCommerce is the best eCommerce plugin for WordPress a lot of extensions exists and luckely free and  premium invoicing plugins have been developed. In this article I will present the best free and premium WooCommerce PDF invoice plugins that exists out there so you can choose the one you like the most and has the features that you need.
Free WooCommerce Invoce Plugins
This plugin it has all the features that you need, you can upload your on logo or create your custom template. This is has a 5 star rating and it has more then 40.000 downloads. This plugin is update is free, it has a lot of features and has 5 stars, what more would you want from it 🙂
Main features
Automatically attach invoice PDF to order confirmation email
Download the PDF invoice / packing slip from the order admin page
Generate bulk PDF invoices / packings slips
Fully customizable HTML/CSS invoice templates
Users can download their invoices from the My Account page
Sequential invoice numbers – with custom formatting
Available in: Czech, Dutch, English, French, German, Hungarian, Italian, Norwegian, Polish, Romanian, Russian, Slovak, Spanish, Swedish & Ukrainian

This is the plugin that I used my customer site, it has all the features to generate a good PDP invoice, it has more then 8.000 downloads and a 4.9 rating. The only proble that I see is the fact that was not updated since February which is not a good thing:
FEATURES
Attach PDF invoice to email type of your choice
Attach PDF invoice to the "New Order" email type for bookkeeping purposes
Sequential invoice numbers
Choose between different invoice number formats
Choose starting point for invoice numbers
Add your company name
Add your company slogan
Upload and use your company logo
Add your company address
Add additional company information
Add refunds policies, conditions etc.
Choose to display customer notes
Choose to display SKU
Add your company vat rates to calculate and display
Translation ready
This looks like an interesting plugin with a lot of nice features. From what I see the plugin is for some months in the WordPress repository I am amaized that is not more popular until now. This plugin it is also have the invoice PDF features that you can use, it is updated, it has good feeback. Some of the interesting features beside the invoce feature are extra payment getaways, modification of the checkout fields and the extra sorting options.

Again an interesting plugin with all features needed to generate invoices, is on the last place on my top as it has only an 4.4 rating in the WordPress plugin repository. The plugin it was updated recently so it looks like it has support.
Premium WooCommerce Invoce Plugins
This plugins comes with more features than a free  plugin, you can create a proforma invoice and has a lot of other interesting features. The plugin has a good rating on codecanyone and beeing on money offers good support.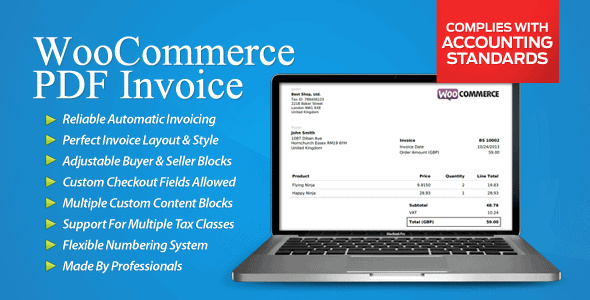 Details / Price: 25$ 
WooCommerce PDF Invoices & Packing Slips Pro lets you easily deliver PDF invoices to your customers automatically or on demand. And you store managers can print packing slips to expedite order processing.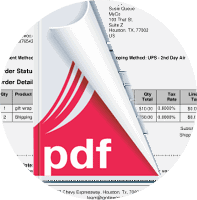 Details | Price: 45$
WooCommerce PDF Invoices Extension is the finishing touch to any professional shop. You can quickly and easily print pdf invoices and packing slips for all your WooCommerce orders. The easy to use extension lets you print the pdfs one at a time or in bulk – the choice is yours.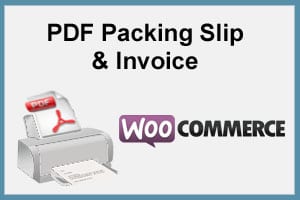 Details | Price: 48$