Last Updated on
This week I have started an analysis on 2 sites that I have designed here in Romania, for a client, to see what is happening with them and how I could increase the sale rates. The number of products from the sites grew every month and now the sites have a coupe of hundred products. As the sites have also a lot of categories, finding what you need can be hard. The first thing that came to mind to facilitate the search was to create somehow a more advanced product filter so the customers could find easier what they needed.
As the sites were build on WordPress with WooCommerce plugin, I started to search the internet for a plugin that could deliver the advanced product filter options for my client. In this article I will present the best WooCommerce product filter plugins that I found on the internet.
 WooCommerce AJAX Product Filter
This looks like the best plugin that I could find online: it comes with a price but it has exactly what I need. Below are some of the features:
Add Unlimited Filters: There is no limitation, let the customers filter all the way through their needs.
Three Types of UI: Slider, Drop Down & Checkbox (Toggle effect).
Count Each Filter Products: Intelligent; based on current applied filters, categories, taxonomies,…
Reset All Filters: Users can reset all filters to default by a single click.
Merge Sidebars: Merge sidebars to save space of shop sidebar.
Filter by Color, Pattern and Image: Assign an image for each attribute so users, see images instead of text for products filtering.
Search Engine Optimized (SEO friendly): Filtered products are indexable and users can share links of filtered results.
HTML5 PushState & HTML4 HashTag Fallback: Best experience in modern browsers beside supporting old browsers.
Check all the data on the official site.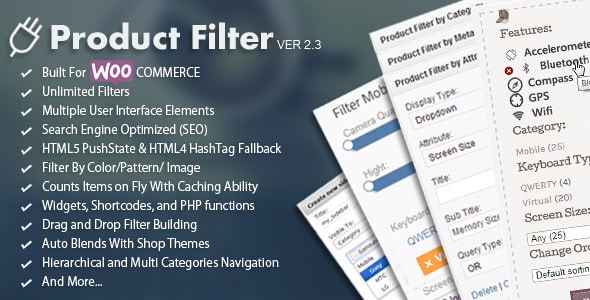 Details | Price: 29$
Another filtering plugin, cheaper, with leas features and perfect for smaller sites.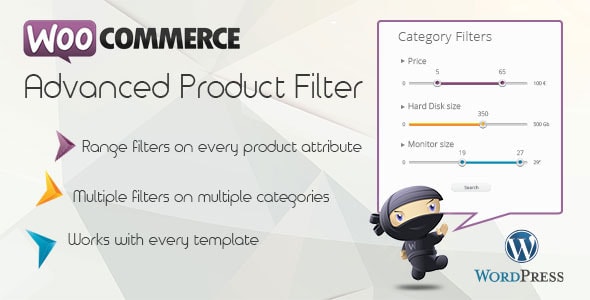 Details | Price:14$
Nice plugin with possibility to add it horizontally, perfect for the themes that don't have a sidebar in category. The price is low and it is worth checking out.
Details | Price: 14$
A free plugin, perfect for the ones that don't want to pay money and also do not want/need a lot of features.
YITH WooCommerce Ajax Navigation allows you to filter the products in the Shop page without reloading the page. The plugin also includes four new types of Product Attributes visualizations: Color, Label, List and Dropdown. With Color display type, you're able to assign a color (selected from a Color Picker) to each Product Attributes.

Details | Price: Free