Last Updated on
Last week I have received a request to have a B2B portal created where the business partners to be able to order products only if they are logged in and with a special discount visible for only the user. This kind of portal is useful especially for the businesses that have a different discount for different business partners or for online shops that have big customers and wants to offer a special discount to them.
The preferred choice  for this project was WooCommerce with some plugin that would help me offer different discounts per user. There are a couple of free and paid plugins out there that can help with implementing the WooCommerce price by user role and help with a fast development of the portal. In this article, I would present a couple of them that I have found and looks interesting so you can choose one.
Best Premium WooCommerce Plugins Role Based Prices
My choice was the codecanyon WooCommerce Prices By User Role plugin because it had the future that I was looking for and I liked especially that in the box with the product it is displayed the whole price and the discount percent + the final price for that user. You just create a role with the discount to be offered and you placed it on the user and that  you have the discount ready on the user.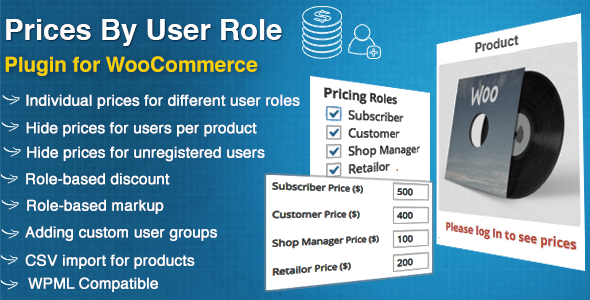 The plugin has also a lot of other features like importing a CSV file with products which can be very useful. For the complete list with the features ,you can go to to the codecanyon site.
Wisdmlabs looks like they did a nice plugin with more features than the previous one. The price was a little higher than the previous plugin and the demo site was not working that's why I have decided to go with the first option.
Not reach in a lot of features as the other 2 plugins but is an option that could be taken into consideration. You can find more on their site but this plugin doesn't have the option to import products or other of the options of the 2 plus is more expensive.
Best Free WooCommerce Plugins Role Based Prices
For
 The free plugin it has most of the needed futures and can be enough for the basic usage:
Role Based Pricing For Simple Product
Role Based Pricing For Variable Product
Hide Price & Add To Cart Button For Selected Roles
Rename Able User Roles
Shortcode to get product price
Bulk Edit Variable Role Basede Price
Features
Hide Product Price for Guest Users Globally.
Hide Product Price for specific user roles Globally.
Remove Add to Cart button for Guest users Globally.
Remove Add to Cart button for specific user roles Globally.
Display custom text when Add to Cart or Price is Hidden.
Setup Role-based discount price adjustment Globally.
Price adjustments in terms of amount or percentage.
Price adjustments on top of regular price or role based price.
Supports all types of Simple Products.
It has also a pro version.
At this point, those are the best Plugins for WooCommerce  Role Based Prices in case other exists please let a comment and share the plugin with us.